Our Motorhome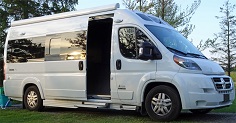 Early in the summer of 2016 we determined that Rod would finally retire in the late summer or early fall. We were also free of some family obligations that left use free to wander.
We had always talked of getting a motorhome when we retired since we had always enjoyed "wandering" and exploring new places. While we had traveled extensively in North America over our 40+ years together, that had only whet our appetites.
So we set off in search of our motorhome. We had some initial criteria. We did not want to tow a trailer but rather we wanted a self-contained unit. We did not want something so large that we could not afford to run the miles we like to cover. We also did not want to tow a car. We also wanted something that would be workable "off the grid" and be quick to set up and take down.
We began exploring the RV dealers around Montreal Island (there were none to talk of on the island). We started looking at some smaller Class "C" units trying to find some that did not have "corner beds" that would be annoying to crawl across give one of us with bad knees and the other with a bad upper back.
We were just wrapping up our tour around a large dealer NW of the island when Lillian spotted this small camper built in a Mercedes Sprinter van. It was not on the sales lot but rather was a rental between bookings. We chased down a sales person so we to have a look. It turned out to be a Pleasureway Ascent built on a 19' Sprinter 2500 chassis. While we found this particular model just a bit small, it began a whole new conversation.
That one look at that one van told us we really wanted a Class "B" - a category we barely knew existed beyond old VW busses and Westfalia. Over the next weeks we learned more about the Class "B" market and commercial van chassis than we ever thought we wanted to know. We became familiar with all the leading (and several smaller) "van converters" and were surprised to find that the best of them were Canadian. We looked at the new and the used market and we refined our requirements though they largely held to the original vision.
In our review we though that Roadtrek stood out with their evolving electrical approach. The concept of the "under hood generator" - effectively an additional alternator running on the chassis engine - generating ample DC power to keep the host batteries charged combined with solar panels made for a simple, low maintenance boondocking solution. At the same time, Pleasureway had some interesting features as well and was probably a bit more advanced in the implementation of Lithium Ion battery technology.
If our budget had been relatively unlimited, some of our favourites were the Roadtrek E-Trek or the Pleasureway Plateau FL. Both were nice conversions of the Mercedes Sprinter 3500 with excellent boondocking potential. The only problem is that they were about 150% of our budget or more.
Another new arrival in recent years has been the Ram Promaster chassis. It has some of the nice features of the Sprinter in a front wheel drive van at a significantly lower price point than the Sprinters. We looked at a number of models using that chassis and kept coming back around to the Roadtrek Zion built on the 21' Promaster 3500 chassis. There was so much to like - especially storage space. It had a large compressor fridge (no leveling issues) mounted high as was the microwave. Lillian especially liked the twin bed setup with the ability to load things from the back. The only issues was the price was a bit more than we wanted to spend.
We kept looking at vaious options both new and used including some Winnebago Era 70X coming of rental. They were built on the Sprinter 3500 extended chassis which, at 24', was longer than we wanted to go. The price for 2013's was in range but they were used and well past the Winnebago 1 year warranty. We were not sure we wanted the history of a rental. Some newer ones were coming up but they were at a price that was again above our initial "budget".
We then talked about increasing the budget (we could afford it - we just were trying to limit our allocation to this "project". Lillian said that if we were going to increase the budget, we already know what we want. We checked with the area Roadtrek dealer and found they still had the Zion in the showroom and several Zion SRT's.
We headed over to our dealer some 50 KM NE of us the next day. We took a last hard look at one of the SRT's and decided that the Zion was indeed what we wanted and that the one they had, while not a perfect selection was better than waiting for a special order. It had the power steps, screen option, underhood generator, TV/Bluray and 200 watts of solar panels. Click here to see some pictures ranging from our first looks in the showroom until we had it home. You can see more about the 2016 Zion in the Roadtrek Brochure.
It seems our timing was good. As our salesman was preparing the contract another salesperson came looking for "the file". Another couple had also decided to purchase the same Zion. They were significantly less pleased than we were.
We took delivery on Friday, August 5th, 2016 and the adventure began.