Back to "Wanders In Our Roadtrek Zion" homepage
Short Ontario Trip - June 27, 2023 - July 3, 2023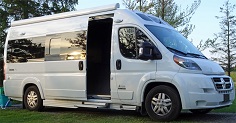 The main driver for this trip was to pick up some stuff for the Bearded Collie Club of Canada in the Niagara region. We were able to book a couple of days at Brighton / 401 KOA Holiday which would give us a chance to poke through Prince Edward County and arrange a visit with our neice Samantha and her kids.
After discussing possible meeting places she decided to see if her "other Uncle Rod" and Aunt Mary would host us for a few hours at their new place in Cobourg, ON.
We always enjoy hearing what folks think about our site. You can reach us at 📮no.comment@roadtreking.ca if you take the "no." off.
For those of you who mostly want to see the pictures, we have assembled a slideshow of all the daily pictures. 📸Click to get the full slide show
Contents
Day 1 - June 27, 2023 - Brighton via The County
Day 2 - June 28, 2023 - A Visit at Rod & Mary's
Day 3 - June 29, 2023 - Off to Niagara
Day 4 - June 30, 2023 - Hanging Around Camp
Day 5 - July 1, 2023 - Hanging Around Camp
Day 6 - July 2, 2023 - Shopping Around
Day 7 - July 3, 2023 - Collecting Some Stuff - Heading Home
Day 1 - June 27, 2023 - Brighton via The County
9:05
Back to Contents
Day 2 - June 28, 2023 - A Visit at Rod & Mary's
11:45
Back to Contents
Day 3 - June 29, 2023 - Off to Niagara
7:56
Back to Contents
Day 4 - June 30, 2023 - Hanging Around Camp
Back to Contents
Day 5 - July 1, 2023 - Hanging Around Camp
Back to Contents
Day 6 - July 2, 2023 - Shopping Around
10:41
The Numbers For Today
Click
Map
For
Larger
Version
Distance:
62.4 KM
Average Fuel:
17.2 L/100KM
Time On Road:
2:04

😞

No pictures for Day 6
Back to Contents
Day 7 - July 3, 2023 - Collecting Some Stuff - Heading Home
7:52
Back to Contents
The Numbers For The Trip
| | |
| --- | --- |
| Distance: | 1,572.1 KM |
| Average Fuel: | 13.8 L/100KM |
| Average Speed: | 65 KM/H |
| Time On Road: | 23:58 |