Back to "Wanders In Our Roadtrek Zion" homepage
First Escape To Ontario 2021 - June 21-26, 2021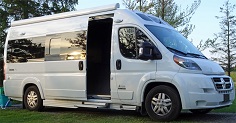 This trip has been building for a while. We brought the Roadtrek home from its winter lair around mid-April but there has been nowhere much to go given the COVID-19 pandemic restrictions. We were especially anxious to get to the Mississauga area to see Lillian's brother, his daughter and son-in-law and his 18 month grandson. We last saw them in February 2020 before everything locked down for the 1st wave of the pandemic.
Around June 9 we heard there was some possibility that restrictions on travel to Ontario would be lifted on June 17. This year Rod has been doing some agility training with our younger dog Josie on Mondays so we wanted to travel betweem Mondays. We decided to chance a booking at Toronto West KOA Holiday for June 22-25 since there was space available and it was closest to the family. Once the opening was official we booked a night at Brighton / 401 KOA Holiday for June 21 so we could take off directly from the agility training and get a good leg down the road.
Contents
Day 1 - June 21, 2021 - Some Dog Training Then On Our Way
Day 2 - June 22, 2021 - Over The Top of Toronto, Visit With Robert
Day 3 - June 23, 2021 - Another Visit With Robert
Day 4 - June 24, 2021 - A Visit To Sam & Michael
Day 5 - June 25, 2021 - Heading Back East The Way We Came
Day 6 - June 26, 2021 - A Visit To The County Then Back Home
Day 1 - June 21, 2021 - Some Dog Training Then On Our Way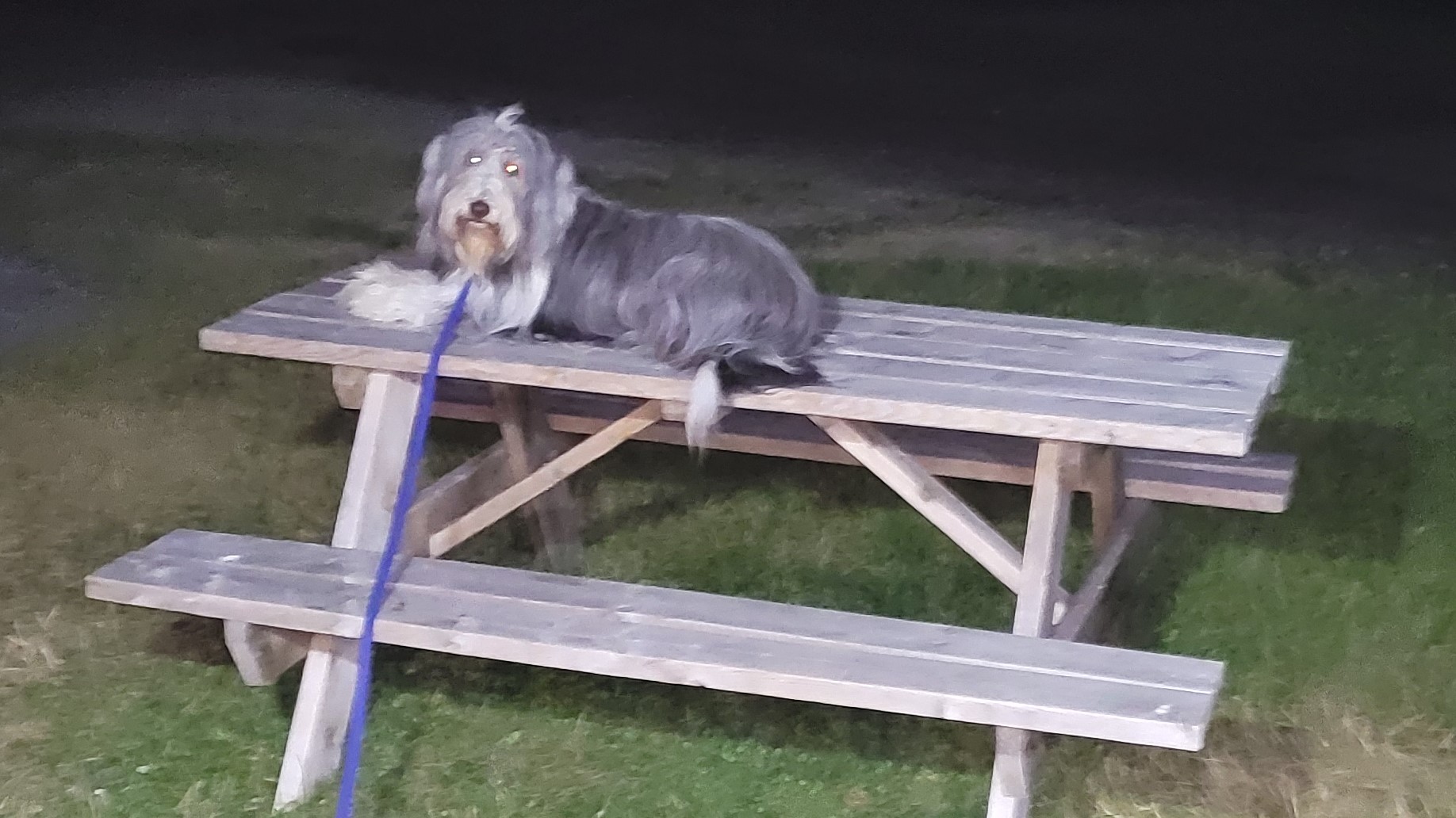 We got rolling from home at about 10 AM heading for Josie's Agility class at Club Agilité Canin de St-Lazare (CAC) next to St-Lazare Airport. The latter is a constant distraction to Rod who wishes he was still flying. On our way we stopped briefly to check on a friend's place in the area. It was a pleasant 23 °C - just nice for training.
After and hour or so of training we hit the road again about 12:30. We made a brief stop at Lancaster, ON to grab a couple of cheese burgers from MacDonalds (easy to eat on the road). We had hoped to make it to the Marysville area to get cheap gas on the reservation but headwinds and agressive driving made that a bit of a nail-biter so we got off at Gananoque and gassed up at Canadian Tire. While there we popped into Metro for a couple of bits.
We got to Brighton / 401 KOA Holiday about 5:15 PM and checked in. While chatting with the lad at the desk, Rod asked if there was any space on the coming weekend. He had a spot on the Friday but was booked up the rest of the weekend. After setting up and checking with Lillian, Rod went back to the office and grabbed the Friday spot. This meant we could take a more leisurely drive on Friday and be positioned for a wander through "The County" on the way home on Saturday.
We took the dogs for a nice walk around the park and took some pictures of various sites for future reference. We then foraged for some supper from the galley and got an early night.
Back to Contents
Day 2 - June 22, 2021 - Over The Top of Toronto, Visit With Robert
We got on the road about 8:45 AM heading north to eventually pick up ON 7 (One of the TransCanada options) so we could enjoy a relaxing drive under Lake Simcoe rather that cross Toronto on the 401. As we rolled along Lillian noticed a sign for Mariposa Woolen Mill and Farm Market. Our mad knitter could not resist a stop so we did. Lillian picked up a few items while Rod noticed some farm fresh eggs. While we were not short, he picked up a dozen anyway. He also noted some frozen lamb products of which he made mental note should we pass back this way on the way home.
We got to Toronto West KOA Holiday about 3 PM. We contacted Lillian's brother and let him know we where in. He said he would be by about dinner time. We put up the X-pens and some chairs then Rod made a run to Milton to pick up some items at the LCBO and Canadian Tire while Lillian relaxed with her book and the dogs.
Rod got back about 5:20 and Robert shortly later. We made a feast out of a left-over rack of St. Louis ribs that we brought and caught up on family happenings.
Back to Contents
Day 3 - June 23, 2021 - Another Visit With Robert
We started the day is a leisurely manner with a good breakfast from ham and farm fresh eggs. Robert wandered in early afernoon and proposed finding an open terrace in Milton for some beer and wings. After a bit of exploring we settled on Bryden's Pub & Restaurant on Main Street East. They had an ample terrace around the back with adequate shade to keep Rod from crisping in the sun.
We each ordered a beer and wings (Rod & Lill sharing a dozen) each and resumed catching up the lock down months. Lillian took off ahead of the boys to so a bit of shopping and Robert popped into a pharmacy on the way back to the car. On the way back to camp we made a stop at Home Hardware to pick up some kiln-dried kindling which is handy for starting fires and leveling tables and camp stoves.
We got back to camp about 4:30 PM and just relaxed for a bit. Rod made a late supper of grilled ham and cheese sandwiches while we plotted out the plans for the visit to Sam & Michael's the next day. The original plan was for Robert to come and pick us up then drive us to and from. Given the fact that they wanted to see the dogs too we decided we would travel on our own in the Roadtrek. We would have access to 120V at 15A so we would be able to run the Air Conditioning in the van should we need to keep the dogs there.
After some time sitting around the camp fire Robert eventually made his way homeward and we crashed.
Back to Contents
Day 4 - June 24, 2021 - A Visit To Sam & Michael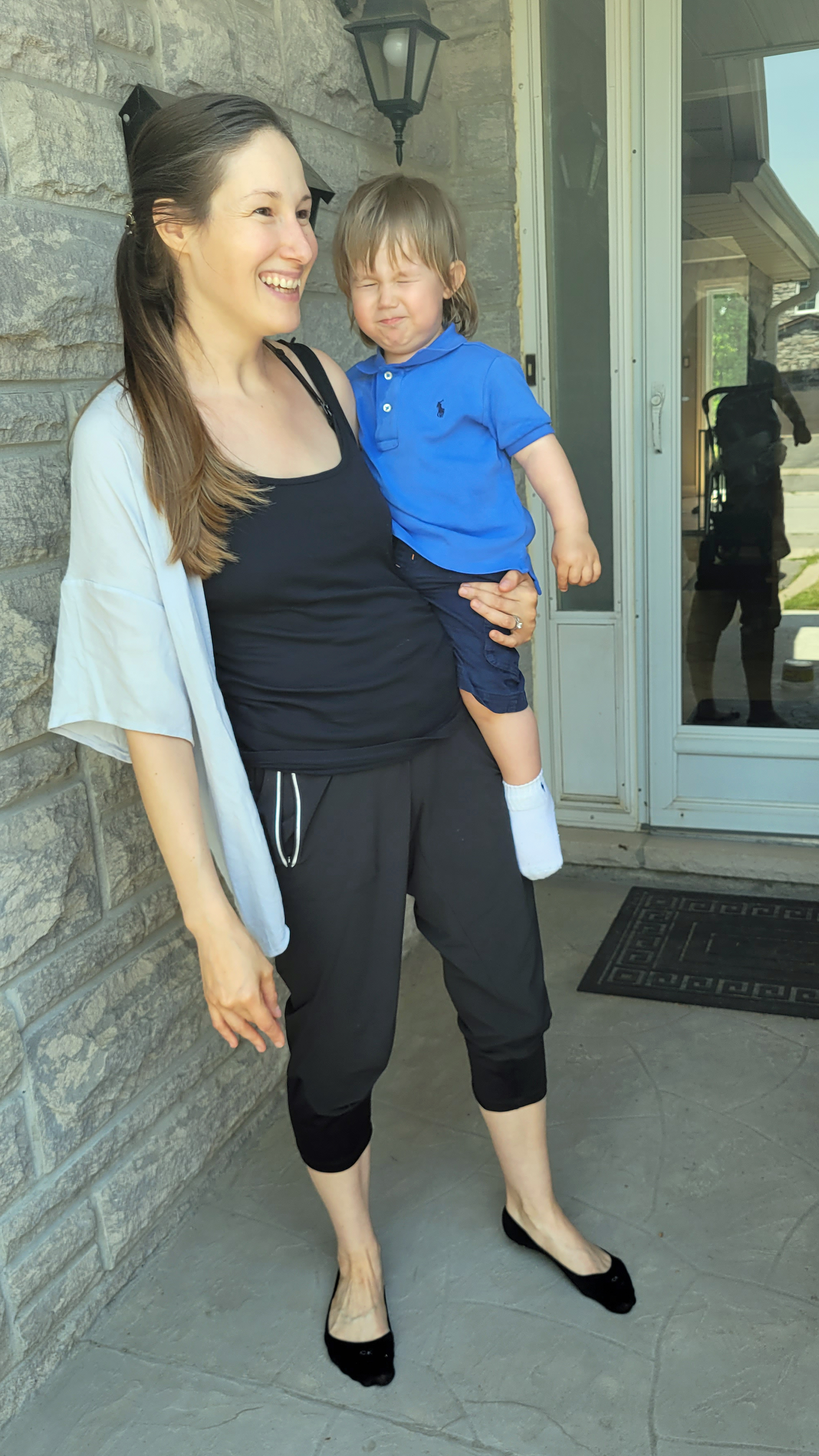 Today we are off to Woodbridge to visit Robert's daughter Samantha, her husband Michael and their 18 month old son Matthew. The original plan was to visit for a quick lunch and to head back to camp for dinner. Samantha coaxed us into planning to stay for an early supper.
We got up and ready to roll by 10:00. We had a message from Robert saying there was some incident on the "400" and it would be blocked up most of the day. We decided to take the long route along 7 and suffer the lights rather than get caught in a big jam.
We finally got there about 12:20 and connected the Roadtrek to the house power so the beardies would be comfortable. It turns out that we brought them around to back yard on their long lines where they hung out most of the day.
Sam had a light lunch ready for us when we got there. Michael popped out for a bit but he was working and had to get back at it. We sat around and visited a bit after lunch then Sam, Matthew & Lillian took off for a walk. It was too hot to bring the dogs along so Rod hung back with them.
Dinner was rotisserie chicken so Robert & Rod worked on installing the rotisserie on their grill. When the girls and Matthew got back, Rod gave Sam a quick course in trussing up a chicken and getting it on the spit as close to balance as possible. We left the grill to do the rest with periodic checks. After a grand meal staring the chicken but including greens from Robert's garden and many other tasty bits, we packed up and got on our way back to camp about 8 PM. We went a more direct route (via 427 to 401) but still avoiding the 400 and made it back to camp around 9 PM. Robert tried the 400 and got home way after us even though we pass his exit on our way.
Back to Contents
Day 5 - June 25, 2021 - Heading Back East The Way We Came
We got rolling before 9 AM and largely reversed our route from Tuesday. This made a nice, relaxing countryside drive. Along the way we grabbed a MacDonalds breakfast to munch in the van and stopped at the Costco in Newmarket for some gas. We stopped again at Mariposa Woolen Mill and Farm Market. where we picked more eggs and some frozen lamb burgers and sausages. We made it to Brighton / 401 KOA Holiday about 2 PM and checked in.
FRYDAY Chip Trailer was opening about 4 PM so we decided to have a lazy supper. We enjoyed a quiet evening planning our homeward journey via "The County".
Back to Contents
Day 6 - June 26, 2021 - A Visit To The County Then Back Home
We got under way around 8:30 grabbing a bite of breakfast on the way. We made our way into "The County" from the west end and followed the "Loyalist Highway" (#33) on through Wellington and into Bloomfield. We were still a bit early for shops to open so we stopped for a coffee and local news update at The Saylor House Cafe and B&B. Susan and her team are taking full advantage of their terrace and yard to keep operating in spite of the restrictions on inside dining in Ontario.
Lillian took off after her coffee to visit her favourite stores while Rod nursed his then took the dogs out to enjoy the morning. The weather was cool and a bit "iffy" but it hung in.
We eventually got rolling again about 11 and made our way to the LCBO in Picton where we picked up some Ontario wine to bring home. Our next stop was Ralph's Meat Market where we picked up a bunch of their peameal bacon and a steak for dinner.
The weather was hanging in so we decided to head out to Waupoos Estates Winery & Restaurant where we explored around a bit before grabbing a glass of Baco Noir and a small Charcuterie Board to snack on.
We set off again about 1:30 PM and left The County via the Glenora Ferry then followed the 33 to Bath before heading up to the 401.
We were planning to stop in Lancaster for gas but the Roadtrek thought otherwise so we got off at Long Sault. We are already booked for July 9-11 with some friends at the Woodlands Campground so we decided to check out our sites since we were so close. We did that and snapped a couple of picture then got on our way before any rangers started asking questions.
We got home about 6:15 and unpacked enough for the night.
Back to Contents
The Numbers For The Trip
| | |
| --- | --- |
| Distance: | 1745.0 KM |
| Average Fuel: | 15.1 L/100KM |
| Average Speed: | 64 KM/H |
| Time On Road: | 26:59 |