Back to "Wanders In Our Roadtrek Zion" homepage
Another Escape To Ontario - September 14-26, 2020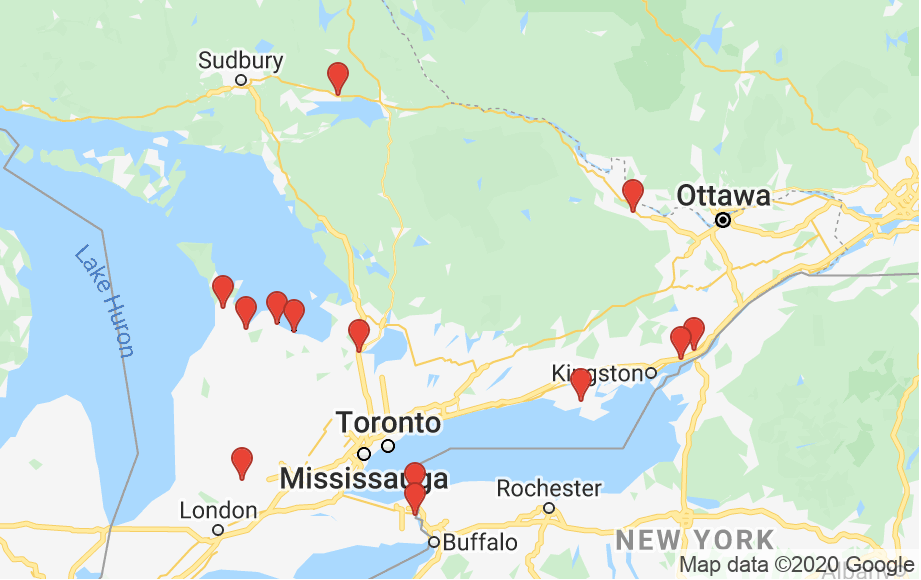 Having made an initial excursion into our neighbouring province late last month (see Escape To Ontario - August 20-30, 2020) we were anxious to get on the road again. Our neighbours to the east were still offering a two-barrelled welcome and those to the south were decidedly out of bounds until further notice so we again looked to the west for our second escape. In particular we thought we would explore a bit of the Georgian Bay area.
Our KOA Value Kard was coming up for renewal at the end of the month so we also decided to explore some of their camps to see if we could push our points up enough to retain our VIP status and gain a free renewal in the deal. In addition, the VKR Appreciation Weekend this year was September 18 - 19 so we would try to exploit that as well. As you will see, we succeeded in both objectives.
We always enjoy hearing what folks think about our site. You can reach us at 📮no.comment@roadtreking.ca if you take the "no." off.
For those of you who mostly want to see the pictures, we have assembled a slideshow of all the daily pictures. 📸Click to get the full slide show
Contents
Day 1 - September 14, 2020 - A Short Run to 1000 Islands
Day 2 - September 15, 2020 - Up To Parry Sound KOA
Day 3 - September 16, 2020 - Around The Bay To Owen Sound
Day 4 - September 17, 2020 - Exploring Around Owen Sound
Day 5 - September 18, 2020 - The Casual Route to Niagara Falls
Day 6 - September 19, 2020 - Hanging Around Camp
Day 7 - September 20, 2020 - Moving Up To Barrie
Day 8 - September 21, 2020 - Off to Sturgeon Falls
Day 9 - September 22, 2020 - Another Lazy Day
Day 10 - September 23, 2020 - Down The Ottawa River
Day 11 - September 24, 2020 - Back to 1000 Islands
Day 12 - September 25, 2020 - A Last Day At Camp
Day 13 - September 26, 2020 - Homeward Bound
Day 1 - September 14, 2020 - A Short Run to 1000 Islands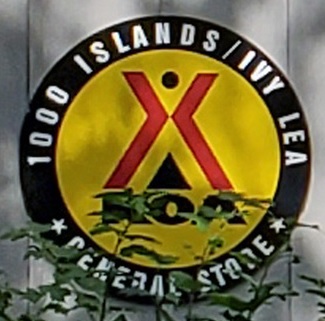 Not knowing how early we would get on the road we only planned a run out to the 1000 Islands region. We actually got on the road about 10:20 AM. We made a quick stop at the Tim Hortons at Coteau-du-Lac for a bite of breakfast. We made another quick stop at the ONroute Ingleside just to use our own facilities before heading on to 1000 Islands RV Centre at the first Gananoque exit. We wanted to shop around for a few things while we had time and they have a pretty decent shop.
We then went into Gananoque to pick up some food items at the Metro store. After that we took a roll along the 1000 Islands Parkway to arrive at 1000 Islands / Ivy Lea KOA at about 2:30 PM.
Back to Contents
Day 2 - September 15, 2020 - Up To Parry Sound KOA
Today we are taking a longer run up to Parry Sound on the east side of the bay.
It was a chilly night though above freezing. We were on our way by 8:10. We first made a quick swing over to the Parks Of The St Lawrence Ivy Lea Campground to take a few pictures of the sites we had booked for Canadian Thanksgiving with our friends Jane & Michel. After that we made our way back to the 401 to route 49 to pick up some Mohawk gas then head our way through Belleville to Darlin' Debbie's just over the bridge from Belleville in Prince Edward County.
They were open for business (you never know with the COVID stuff) so we were able to sit in a safe corner for only our second restaurant meal. Deb's son Willy was visiting for a few days and was helping in the kitchen. Rod's favourite breakfast a Debbie's is her home made corned beef hash with a couple of poached eggs on top. Willy did the honours and set a new standard of excellence. Lillian had a more conventional ham & eggs breakfast. A wonderful way to start the day.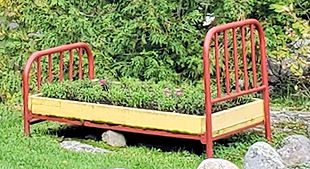 We started north around Brighton on route 30. We made our way past Peterborough the through Orillia finally picking up the 400 to arrive at the Parry Sound KOA about 4:00 PM.

It was warmer here than by the 1000 Islands anyway so we had a feed of corn-on-the-cob that Lillian picked up at the produce vendor where we gassed up. We then enjoyed and evening by the fire.
Back to Contents
Day 3 - September 16, 2020 - Around The Bay To Owen Sound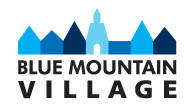 Today we are off around Georgian Bay to Owen Sound at the bottom of the Bruce peninsula. Since it was on our path, Lillian requested that we make a stop at Blue Mountain Village.
We set off about 10:10 making our way back down the 400 to Wasaga Beach. We the poked our way along the shores of the bay through Collingwood until we reached the requested Blue Mountain Village.
Rod walked the dogs while Lillian poked around a number of shops since the village was not crowded. As usual the beardies attracted attention.
About 2:30 PM we got back on the road and made our way to the Owen Sound KOA arriving there about an hour later and checking in for 2 nights.
Having arrived at a decent hour, we had time for a walk, a nice dinner and some wine by the fire.
Back to Contents
Day 4 - September 17, 2020 - Exploring Around Owen Sound
After a good night and a nice breakfast we set off to explore the area at about 10:45 AM. Our first stop was Owen Sound Marine & Rail Museum. Unfortunately it was closed but there was much to see outside and along the waterfront. After a nice walk around the area we moved on to The Mill Dam and Fish Ladder which was another chance for a nice walk.

We then headed out of town along the Georgian Bay side of the lower Bruce Peninsula. We made a stop at Big Bay - Stone Skipping Capital of Canada. We got some great pictures of the bay and the Niagara Escarpment. In another day we will be at the other end of it. From there we headed up past Wiarton to the https://ontarioconservationareas.ca/component/mtree/conservation-authorities-of-ontario/grey-sauble/spirit-rock-conservation-area Spirit Rock Conservation Area. Having made our way in through a challenging road we decided not to pay a day's parking for a quick wander and plan a better time.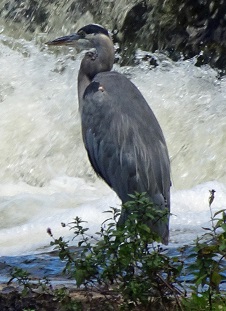 At this point we decided to cross over to the Lake Huron side of the peninsula and visit Sauble Falls Provincial Park. This was a good place to stop and make some lunch before taking the beardies for a nice walk around the falls area.

We needed to get some food so we pointed ourselves back toward Owen Sound where we stopped at Zehrs before heading back to the Owen Sound KOA for some dinner and another fireside relax.

Back to Contents
Day 5 - September 18, 2020 - The Casual Route to Niagara Falls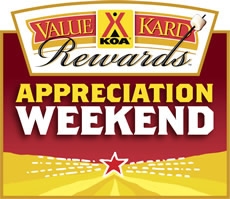 Today we are heading for Niagara Falls where we have booked 2 days at the KOA on Lundy's Lane. It is VKR Appreciation Weekend. Originally we had hoped to spend the weekend at Owen Sound but the only sites they had were "water and sewer". This odd combination arose when they had a block with power problems that could not be fixed before the end of the season so the turned the problem into "a feature".
While this was not too long a run and we were planning to use the lesser roads, we managed to get off before 9:00. We wanted to visit Niagara-on-the-Lake and preferred Friday afternoon to the weekend to avoid any crowds. Our first stop was Chocolate Barr's Candies in Stratford where Lillian picked up some favourites. Rod found a place to park and spent most of the stop chatting with CAA to arrange a last minute renewal of our travel insurance. While he was finishing up Lillian poked into The Livery Yard coffee shop next to where Rod was parked and picked up some fine goodie to munch for a light brunch.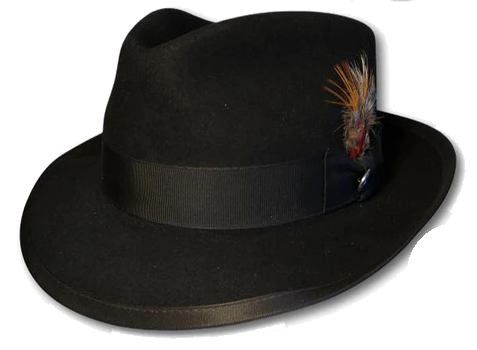 We were rolling south again by 11:45 making our way down to Simcoe, ON before heading east towards Niagara Falls. We got to Niagara Falls KOA about 2:30 and checked in. After allowing the dogs a "kidney break", we set course for Niagara-on-the-Lake getting there about 3:30 PM. We were pleased to find it not too busy for the time of year. The old town is usually a very popular tourist area.
Lillian visited a small number of fashion shops and picked up a couple of items. We also popped in to Niagara Home Bakery for some sweets. We finally made the mistake of wandering in to BeauChapeau Hat Shop one of the best little hat shops for variety and quality. Rod ended up walking out with a black Stetson Whippet Fedora as a late birthday treat.
By now it was 5:00 PM so we decided to make a couple hit and run visits to some nearby wineries to get a bit of product not typically available at the LCBO. Our first stop was Peller Estates where Lillian popped into the shop while Rod gave the dogs a break. We then scooted over to Colaneri Estate Winery. Their wines are made in the appassimento style - what we call "raisin wine". We treated ourselves to a few bottles before getting out and letting them close at 6 PM.
Since it had been a busy day we decided to give the cook a break and make our quarterly stop at the KFC near camp for some classic fried chicken. We got back to camp just after 6:30 PM and settled in to an easy dinner followed by some wine analysis by the fire.
Back to Contents
Day 6 - September 19, 2020 - Hanging Around Camp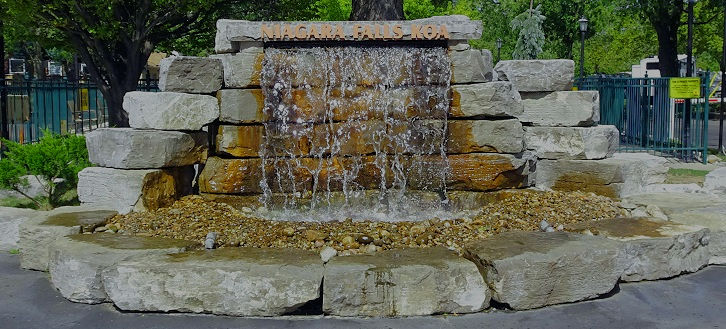 Today is just a lazy day around camp fixing up some stuff around the Roadtrek, enjoying the weather, walking the dogs around the park and seeing what has changed since our last visit. It was also a good chance to catch up on some dog grooming.
It also was a good chance to eat up some of the leftovers around the galley. It was another lovely evening to sit around the fire and enjoy some good wine and better company (just us). We were camped in an area surrounded by deluxe cabins most of which were well occupied by large (extended) families gathering to celebrate various occassions. I am not sure what else may have coincided with this weekend but it was Rosh Hashanah in the Jewish calendar. While were were safe in our little patch, is is easy to see where COVID spread can occur.
Back to Contents
Day 7 - September 20, 2020 - Moving Up To Barrie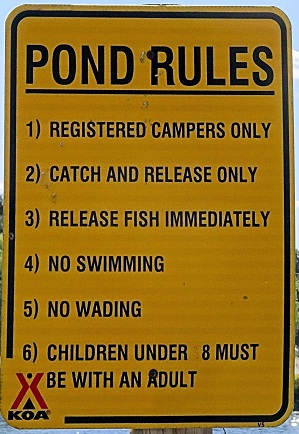 Given the current COVID situation we decided we wanted to get back to less active areas. While we completed our Niagara visit without significant risk to ourselves, we could forego other area opportunities. Since it was Sunday, we figured we could move up through Hamilton and Toronto areas with less problem that on a weekday. We booked a night at the Barrie KOA which is actually north of Barrie with a though of perhaps returning over to the Bruce.
We managed to get on our way by 9:20 which is pretty good for us. We made steady progress toward Barrie with only a brief stop at the https://www.onroute.ca/locations/king-city ONroute King City to use our facilites. We then got off the 400 at Mapleview Drive in Barrie and proceded to visit Canadian Tire, Starbucks, Costco Gas Bar, Sobeys and Simcoe Nails and Spa.
Even with all that, we managed to roll into the Barrie KOA Holiday near Springwater, Ontario by 2 PM. We have often used this KOA as a stopping point when we cross north of Toronto.

We checked in and did a quick setup then took the dogs for a nice walk to the back section of the camp. We made a nice dinner from the galley then settled down by the fire to discuss next steps.

Our tentative plan was to cross back to the Owen Sound area then possibly head up to Tobermory. Around the time we were checking in I had been looking at the KOA app to see how close we were to keeping our VIP startus and getting a free renewal. My eyes happened to notice that there was a KOA near Sturgeon Falls up near Lake Nipissing. Their rates were pretty good and it looked like a nice spot to spend a couple of days. We agreed and booked them. Our typical planning for serendipitous travel.

Back to Contents
Day 8 - September 21, 2020 - Off to Sturgeon Falls
As we planned yesterday, we are on our way up the east side of Georgian Bay to make our way around the west end of Lake Nipissing. We hit the road about 9:30 AM following 400 up past French River then eventually meeting up with route 17 east of Sudbury. We went past the KOA into the town of West Nipissing to grab a couple of burgers then made our way back to Sturgeon Falls KOA just after 1 PM.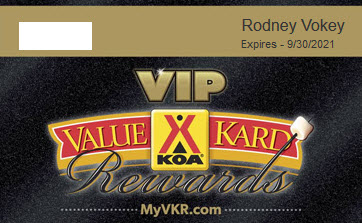 When checking in we found out that their famous showers were being reserved for tent campers. Since they were not busy with tenters and since we were VIP members, they made an exception for us. Their reputation is well deserved. We love our Roadtrek but the shower is lame to say the least. Another nice VIP feature they had was special WiFi access. That too was excellent. Speaking of KOA VIP, the first night here qualified another year of VIP and a free renewal of our Value Kard Rewards membership.
We settled in and, besides availing ourselves of the showers, just enjoyed a nice afternoon by the marina and an evening by the fire.
Back to Contents
Day 9 - September 22, 2020 - Another Lazy Day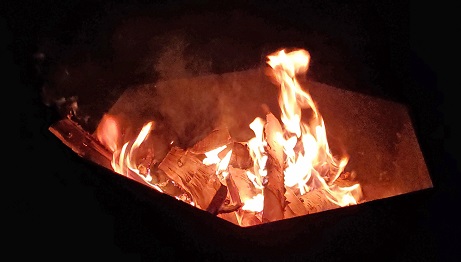 Since the COVID numbers were climbing, we decided to enjoy a day around this lovely spot. We did a lot of walking around including a wander over to the other side of the "marina". There was an area up the end where we were able to do some off-leash recall training with Josie. This has the additional benefit of giving her a chance to burn some energy.
We wrapped up with a good dinner and an evening by the fire.
Back to Contents
Day 10 - September 23, 2020 - Down The Ottawa River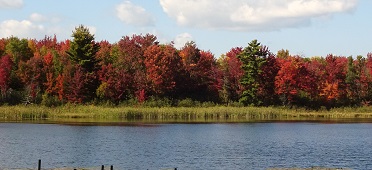 Our plan was to spend Thursday and Friday around the 1000 Island so we decided to break the trip up by spending a night near Renfrew, ON. We got on our way just after 10 AM. The route was simple - follow the TransCanada East.
We needed to get some gas so we stopped at Canadian Tire in North Bay. We were surprised at the price compared to some we had seen. A quick check of Gas Buddy showed a native fuel stop a couple of KM back to we decided to take the savings.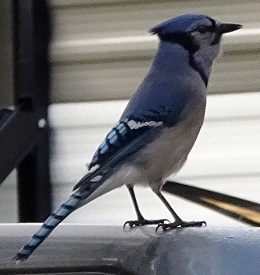 We made a brief stop just past Chalk River near the entrance of the Petawawa Research Forest to give the dogs (and ourselves) a kidney break before making our way to Renfrew / Ottawa West KOA at about 2:20 PM. We checked in and set up a bit before we headed into Renfrew to visit Metro, Canadian Tire and LCBO for various supplies.
We got back to camp just before 5 PM which gave us time for a walk around camp before dinner and campfire time.
Back to Contents
Day 11 - September 24, 2020 - Back to 1000 Islands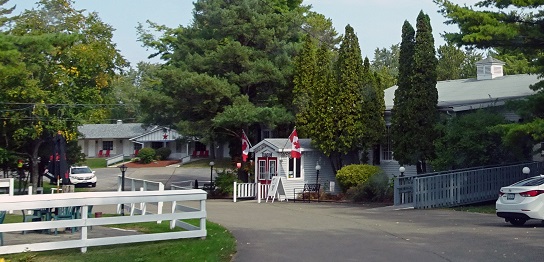 Today we are on our way back to where we were on the first night except we were going to stay at the camp where we plan to spend Thanksgiving. We got on our way a little after 9 AM and made a quick stop at Tim's in Renfrew for some breakfast. We made our way to and down the 416 to the 401 and turned west. We made a brief stop at ONroute Mallorytown North to use our facilities before heading into Gananoque where we stopped briefly at the Canadian Tire.
Part of the reason for our stop in Gananoque was to check on the status of the Colonial Resort & Spa. We had planned to hold the 50th anniversary edition of the Bearded Collie Club of Canada National Specialty there this past August and had to cancel due to the COVID-19 situation. We hope to reschedule this year if they survived the situation. All seemed well.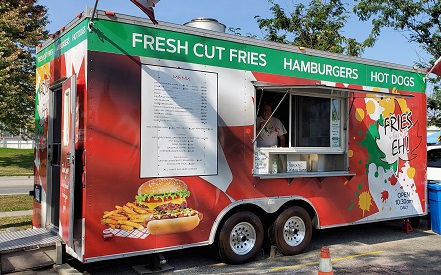 Since we were early, Lillian asked if we could maintain tradition by visiting a wool store in Kingston (her wool shop in Stratford had closed) so we continued along route 2 into Kingston to visit Minotaur Games, Gifts + Crafts. Since it was on Princess Street in the core of downtown Kingston, Rod dropped her off and found a place to park until Lillian was ready for pickup.
We got rolling again about half an hour later and made our way up to the 401 and back to https://www.canadiantire.ca/en/store-details/on/gananoque-on.store.html Canadian Tire in "Gan". We were actually there to visit the chip wagon stationed in their parking lot.
After that we found our way down the parkway to Ivy Lea Campground just under the Hill Island Bridge. We checked in just after 2 PM and headed to our site and set up. We spent the rest of the day taking a nice walk around the camp. We paid special attention to sites 92 and 93 since they were the ones booked for Thanksgiving. Other than bridge noise, the sites seemed workable.
We then enjoyed another good feed and evening by the fire. Only one more camp night after this.
Back to Contents
Day 12 - September 25, 2020 - A Last Day At Camp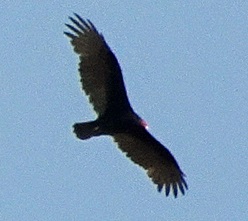 Today was spent cleaning up, grooming a dog and a lot of walking. We took time to explore some parts of the camp we missed yesterday and paid another visit to 92 & 93 where some folks had made a shared setup.
We also found an area with a small beach and an area for scuba divers. Rod chatted with a couple of them since he used to dive the area from houseboats with the old Cormorants Dive Club.
As usual we wound up beside the fire after a good dinner using up the last of our firewood.
Back to Contents
Day 13 - September 26, 2020 - Homeward Bound
Not much to say about today. Time to head home. We broke camp about 9:30 stopping at the office to drop off our gate token. While there Lillian asked about cancellation fees if our provinces went back to some lockdowns due to the growing second wave of COVID-19 infections. She was told that there was not problem since they were giving full refunds for COVID related cancellations.
We made our usual stop at the LCBO in Brockville and made it home around 12:15 PM.
The Numbers For Today
Click
Map
For
Larger
Version
Distance:
223.1 KM
Average Fuel:
13.5 L/100KM
Time On Road:
2:46

😞

No pictures for Day 13
Back to Contents
The Numbers For The Trip
| | |
| --- | --- |
| Distance: | 2917.4 KM |
| Average Fuel: | 14.7 L/100KM |
| Average Speed: | 65 KM/H |
| Time On Road: | 44:21 |
Epilogue
We had a wonderful trip with lovely weather and we are pleased we got it in since it appears to be the last for 2020. In Quebec we are in a "Red Zone" where we can not gather in houses or yards and where non-essential travel outside our zone is discouraged. This will last until October 28 or longer.

For our Canadian Thanksgiving plans with our friends Jane & Michel, if we tried to gather in either of our yards we could be "blessed" with $6,000 of fines and fees. Taking the party out of the zone is also considered an infraction. Guess we will stay home a bit.

Only 4,225 KM this year instead of our usual 25-30,000 KM.