Back to "Wanders In Our Roadtrek Zion" homepage
Escape To The East - June 22 - July 1, 2019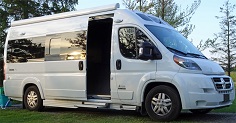 We got back from our last trip June 16 to discover that our heat pump was not working. A quick service call confirmed the worst - the compressor had died. Given that the unit was about 25 years old, it was way beyond considering repair. After some due diligence, we decided to get another unit from our same supplier. Installation was set for July 4.
Since the weather was getting warm and there was little else we could do to improve the situation, we decided to pick up our interrupted plans and head down east. Our only limit is that we need to be back for the heat pump installation.
We always enjoy hearing what folks think about our site. You can reach us at 📮no.comment@roadtreking.ca if you take the "no." off.
For those of you who mostly want to see the pictures, we have assembled a slideshow of all the daily pictures. 📸Click to get the full slide show
Contents
Day 1 - June 22, 2019 - Off To NB
Day 2 - June 23, 2019 - A Return To Fundy National Park
Day 3 - June 24, 2019 - On To Nova Scotia
Day 4 - June 25, 2019 - Eating Our Way To Yarmouth
Day 5 - June 26, 2019 - Back To The South Shore
Day 6 - June 27, 2019 - Wandering With D&C
Day 7 - June 28, 2019 - Checking Out The Northumberland Shore
Day 8 - June 29, 2019 - Drifting Across New Brunswick
Day 9 - June 30, 2019 - Picking Up Seafood And A Doggie Party
Day 10 - July 1, 2019 - Homeward Bound
Day 1 - June 22, 2019 - Off To NB
When we hit the road about 8:15 it was already 27°C so we were happy to be in an airconditioned vehicle rather than home with a dead heat pump. It is Saturday so traffic is not so bad but you never know what may be closed for the weekend around Montreal.
We headed over the Mercier bridge, picked up A30, followed it over to A20 (TransCanada) and settled on the road. We stopped at a Tim Horton's near Saint-Hyacinthe to grab a snack and at an Esso near Saint-Jean-Port-Joli to feed the Roadtrek a snack.
We got to Edmunston about 4:30. We made a quick stop at the local IGA Extra for supplies before heading on to Camping St Basile surprisingly found near St Basile, NB. It was our first time staying there but we would consider it again as a halfway break.
Back to Contents
Day 2 - June 23, 2019 - A Return To Fundy National Park
Rolling east again at 8:45. A cooler 20°C this morning. We made a gas stop near Fredericton then continued along the TransCanada until the intersection of NB-10 where we picked up that route. We stopped at Gateway Mall in Sussex. We popped in to Sobeys, Canadian Tire and a couple of other stores before rolling again.
From there we made our way to Fundy National Park where we checked in at the Headquarters campground within walking distance of the Village of Alma.
Once settled, we popped over to the Alma Lobster Shop where we snacked on a lobster roll and some Covered Bridge Potato Chips from nearby Carleton County. We then returned to camp to relax a bit before heading back into Alma around 6:15 PM to enjoy another fine feed at Tides Restaurant at The Parkland Village Inn. One of the joys at this restaurant is the hummingbird feeders on the windows. They were a bit sparce this visit since it was egg hatching time but a few showed up. You can see some pictures from our visit last year.
We got back to camp about 8 PM after an excellent dinner.
Back to Contents
Day 3 - June 24, 2019 - On To Nova Scotia
Up and on our way a bit after 9 AM. A brisk 15°C this morning. We decided to start the day by popping in to the Hopewell Rocks Park for a bit of a hike. We were not planning to go down to the seafloor but just take the dogs for a good walk and enjoy the view.
We were back on the road by 11 AM and followed NB-11 up to Moncton. A pleasant drive. We then picked up the TransCanada again and followed it to Nova Scotia where we stopped at the Nova Scotia Provincial Visitor Information Centre near Amhearst.
We ran into another Readtreker who was still getting familiar with their rig and chatted a bit. We mentioned we were heading to Halifax West KOA since it was so central to most of the NS mainland.
On our way to our destination, we made a stop at Masstown Market for some food and a gas stop. We got to camp about 4:20 PM and checked in. While at the office we purchased a Bug Away Egg Carton Smoker which we have been hunting for since we saw them last year. We even had a supply of egg cartons with us and the bugs are active this year.
As we were getting settled in another Roadtreking couple popped by and introduced themselves. We introduced them to some Ontario Wine we had with us from our last trip. We started to combine forces for a good camp dinner. The couple that we met at the visitor center also popped by and sampled some grape juice while we exchanged experiences and ideas. A nice evening all around.
Back to Contents
Day 4 - June 25, 2019 - Eating Our Way To Yarmouth
A leisurely start to the day. After a nice breakfast and a stop to dump the "ugly tanks" we set out about 10:15. Our first stop was Just Us! Coffee Roasters on NS-1 near Hortonville to poke around an buy some coffee and frozen mushroom soup. From there we popped over to Gaspereau Valley Fibres Farm Wool Shop where Lillian acquired some knitting stuff and Rod got some fine farn fresh eggs. We thwn took a quick run down the road to Gaspereau Vineyards where we picked up a couple of bottles of Lucie Kuhlmann to restore our red wine supply after last night.
We finally got back on NS-101 and made our way down to Digby. It was a nice warm day so we took the dogs down to the wharf where we had some lunch at the Dockside Restaurant & Bar. They even supplied a bowl of water for the beardies.
After our late lunch we worked our way down to Castle Lake Campground and Cottages near Yarmouth where we stayed last year when in the area. We also continued our tradition of dining at Rudder's Seafood Restaurant & Brew Pub. A great feed as usual.
We got back to camp around 9 PM and just relaxed.
Back to Contents
Day 5 - June 26, 2019 - Back To The South Shore
We started moving just before 9 AM. Our target today is Rod's brother's place on the south shore. They suggested we should check out Le Village historique acadien de la Nouvelle-Écosse on our way around.
We got there a bit before 10 AM and had an initial look around. There was nothing there good for a breakfast but we got guidance over to Dennis Point Café in Lower West Pubnico where there was.
After breakfast we returned to the village and took the dogs along with us for a tour of the area. There was the last group of school kids participating in activities for the era which was fun. It was also great socialization for the puppy.
We got rolling again about noon and conveniently made our way to Shelburne in time to have lunch at The Beandock Coffee & Collectibles. Rod, of course, had to have their famous Bacon & Scallop Wrap. You go in thinking it can't be as good as you remember and find that it is even better!
After a wonderful lunch and a bit of a wander around the Historic Shelburne Waterfront we got back on NS-103 and made our way to "Brudder's" in Middle LaHave arriving about 4 PM where we set up camp in our usual spot in the yard. We had a nice evening and retired to the Roadtrek at a reasonable hour.
Back to Contents
Day 6 - June 27, 2019 - Wandering With D&C
We gathered again in the kitchen to enjoy some coffee and breakfast. Since D&C wanted to get some things in Costco in Halifax, we plotted out a day that involved some wool shopping, a nice lunch, the Costco visit and finally a tour of the Uniacke Estate Museum Park.
We put the plan in action about 9:30 and made our way to Have A Yarn on Main Street in Mahone Bay the moved on to Heidi Wulfraat Woolworks Studio on Keddy Bridge Road.
Done with the wool stops, we continued on NS-3 to the Seaside Shanty Restaurant in Chester Basin where we enjoyed a superb lunch mostly of south shore seafood.
After lunch we set a pretty direct course to Halifax Costco Wholesale where we were able to finish our shopping in about 1 hour. As part of the process we arrabged for D&C to get their own membership with both of us getting gift coupons.
From there we headed over to Halifax West KOA so we could drop off the Roadtrek before heading over to Uniacke Estate Museum Park with D&C. We were given a nice tour of the interior then enjoyed wandering around outside.
We got back to camp about 5 PM and D&C headed back to the south shore shortly thereafter.
Back to Contents
Day 7 - June 28, 2019 - Checking Out The Northumberland Shore
To continue our gradual migration towards home we have decided to make our way to the Amhearst area tonight. We have time so it does not need to be a direct path. As a result we got rolling about 9:20 AM and made our way back to Just Us! Coffee Roasters for another pack of coffee since we gifted one from the other day. We also revisited Gaspereau Valley Fibres Farm Wool Shop for some more knitting supplies. There was one item we had to scoot over to their shop in Wolfville to pick up.
We headed back to Windsor to pick up NS-236 to make our way over to Truro. We got there a bit after 1:30 and made a beeline to Murphy's Fish & Chips for a late lunch. It is one of our favorite stops over many years. From there we made our way to Jost Vineyards Winery and Boutique on the Malagash Peninsula which noses into the Northumberland Strait. We picked up some liquid supplies including a good supply of Jost 4 Skins. Besides the humerous name, this blend of Castel, Lucie Kuhlmann, Marechal Foch and Leon Millot has been a favourite of ours since we discovered it in 2016.
We headed on to Amherst where we stopped at Amherst Centre to do some shopping before setting up camp at Lock Lomond RV Park about 6 PM.
Back to Contents
Day 8 - June 29, 2019 - Drifting Across New Brunswick
Today we plan to cut across northern New Brunswick to the shores of the Baie des Chaleurs so we can cross into Quebec at Campbellton. Before starting though, we want to head over to Pugwash to check out the Saturday Pugwash Farmers' Market.
We got rolling about 10 AM and followed NS-6 to Pugwash. We spent about 20 minutes poking around the market but found it a bit disappointing. It is probably better later in the year when there is produce to sell.
We backtracked along NS-6 a bit to pick up NS-366 just past Port Howe. We followed it as it eventually became NB-970 and later NB-955. We finally picked up NB-15 near East Shediac.
Around this time the Promaster started to complain about tire pressure to we made our way to Giant Lobster where we stopped while Rod checked and topped up a couple of tires.
We finally settled on NB-11. When we got to Miramichi we "cut the corner" on NB-8 over to pick up 11 again near Bathurst. We got to Camping Heron Bleu near Charlo just before 4 PM. We were impressed with the amount of work they had done since our last visit a year ago.
Back to Contents
Day 9 - June 30, 2019 - Picking Up Seafood And A Doggie Party
The plan today is to cut across the Gaspé peninsula to Matane to pick up some local seafood then make our way west along the coast to Ste-Luce to visit with some friends.
We got rolling about 9:30 and made our way to Cafe Chez Wes near the bridge to Quebec in Campbellton for some breakfast.
After breakfast we headed back to Quebec and followed QC-132 to QC-195 and on to Matane. We took a quick stop at a rest area near Saint-René-de-Matane to give the dogs a break.
Our next stop was Poissonnerie Matanaise, our favourite place to get local seafood. After that we stopped at Le Portage a motel and restaurant nearby.
We then continued down QC-132 to our friends' place arriving just before 3 PM.
We first met M&L when they became the proud owners of one of the Roxie Logan Puppies back in 2005. They still have her as well as two other bearded collies. As usual on a visit, we all had a wonderful time. Josie in particular had a wonderful time romping with their young girl beardie. The people too had a fine afternoon and evening drinking good wine, eating good food and having wonderful conversations in our unique blend of English and French.
Back to Contents
Day 10 - July 1, 2019 - Homeward Bound
This morning we were welcomed in to a fine breakfast. Amongst many excellent items, M made some amazing waffles. The beardies all had a wonderful morning romp in the yard. We said our good byes around 10:45 and hit the road. The ride home was uneventful and we arrived home to a hot house around 5:15 PM.
Back to Contents
The Numbers For The Trip
| | |
| --- | --- |
| Distance: | 3894.1 KM |
| Average Fuel: | 14.0 L/100KM |
| Average Speed: | 74 KM/H |
| Time On Road: | 52:13 |