Back to "Wanders In Our Roadtrek Zion" homepage
A Gathering In Niagara Then A Dog Show - June 5 - 15, 2019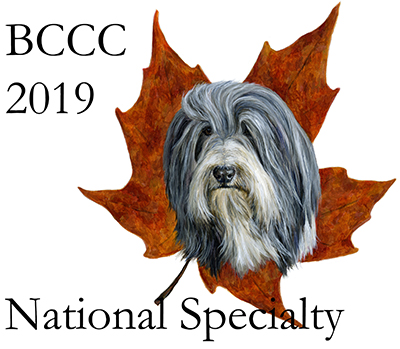 Besides wandering around and enjoying off-season travel, a key purpose is to get Josie to the Bearded Collie Club of Canada National Specialty in Orono, Ontario for June 12th. Since we had week to get there we decided to work our way to Niagara with hope of meeting up with Lillian's brother and his wife as we have in the past.
After the specialty we plan to head back home for a day or so to renew some prescriptions and do some laundry before heading off to the east for the rest of the month.
We always enjoy hearing what folks think about our site. You can reach us at 📮no.comment@roadtreking.ca if you take the "no." off.
For those of you who mostly want to see the pictures, we have assembled a slideshow of all the daily pictures. 📸Click to get the full slide show
Contents
Day 1 - June 5, 2019 - Off To The County
Day 2 - June 6, 2019 - Further West
Day 3 - June 7, 2019 - Off To Niagara Falls
Day 4 - June 8, 2019 - Around Niagara
Day 5 - June 9, 2019 - A Day Around Camp
Day 6 - June 10, 2019 - Heading Back East
Day 7 - June 11, 2019 - Around Peterborough
Day 8 - June 12, 2019 - On To Bowmanville
Day 9 - June 13, 2019 - A Very Soggy Specialty
Day 10 - June 14, 2019 - Heading Back East
Day 11 - June 15, 2019 - A Wander In The Eastern County
Day 12 - June 16, 2019 - Heading Back Home
Day 1 - June 5, 2019 - Off To The County
As we were planning our departure we noticed that today was the The Barley Room "Kitchen Party" so we decided that our first night would be in Prince Edward County. We pulled out of the driveway about 9:50. As usual the first thing we did was head off the wrong way to stop by St-Viateur Bagel & Café DDO to pick up some "fresh from the oven" bagels to go with us.
As we worked our way down the road we made another usual stop at the Starbucks on Parkdale in Brockville and to pick up a couple of bottles at the nearby LCBO. We also made a stop in the Tyendinga Mohawk reserve to top up the tank as we headed along route 49 to Picton. As we passed through Picton we popped in to Ralph's Meat Market to pick up a couple of items including some of their fine peameal back bacon.
We then headed off to our favourite county campground, Quinte's Isle Campark. It was a soggy day so we just relaxed until it was time to head to the "Kitchen Party". We did discover that Rod's rain jacket had been left at home so he had to make do with a light poncho saved from some attraction.
We had a bite to eat at the pub while we waited and enjoyed a good evening's entertainment before heading back to camp a getting a good night.
Back to Contents
Day 2 - June 6, 2019 - Further West
Today dawned to clearing skies. We got moving at a decent hour and hit the road before 9:15 after enjoying some bagels for breakfast.
We first made a stop at the The Asparagus Store since the product we picked up last week was so good. After that we set out along route 33. We made brief stop at Sandbanks Winery and Casa-Dea Estates Winery for "supplies".
After that we worked our way to the 401 and followed it west. We took a side trip to Orono to check out the venue for the BCCC Specialty next week. From there we also went to Bowmanville to cast eyes on the hotel being used for the event. From there we headed north and west by secondary roads to make our way to Toronto North / Cookstown KOA where we set up camp for the night. We remembered from last fall that they had really great showers there. We spent a quiet evening in improved weather.
Back to Contents
Day 3 - June 7, 2019 - Off To Niagara Falls
We got on the road about 9:40 after some breakfast. Our first stop was https://www.tangeroutletcanada.com/cookstown Tanger Factory Outlet Center near the campground. We shopped around a bit. Rod managed to get a good deal on a rain jacket and a shirt at Eddie Bauer and Lillian bought a couple of small items.
From there we headed to Guelph where we stopped at the local Costco for gas. Since it was time for lunch, Lillian ran in to grab a couple of their hot dogs from the food counter.
After that we made our way down to Niagara Falls where we set up camp at Niagara Falls KOA as usual. We got a nice site near showers and wash tubs. We settled in for a quiet evening.
Back to Contents
Day 4 - June 8, 2019 - Around Niagara
Lillian's brother and his wife (R&A) are supposed to meet up with us at some point today but we had some time. So, after a good breakfast, we set off to Hernder Estate Winesabout 10:30. We primarily wanted to pick up some of their 2012 Cabernet Franc which is not available through the LCBO. We picked that up plus a couple of others. After that we set course for Colaneri Estate Winery where the specialize in appassimento style (Italian term for drying harvested grapes for a few weeks up to several months to concentrate the sugars and flavors) wines. Again, these are not wines we can get at LCBO outlets and, of course, shipment to Quebec unless arranged though the SAQ would be illegal.
Now that we had address our wine visits, we headed into the old town of Niagara-on-the-Lake to poke around and walk the dogs a bit. Lillian did most of the poking and Rod did most of the dog walking. Rod DID come away with a hat from BeauChapeau Hat Shop but only after Lillian went back in to find out what he was looking at.
Around this time R&A made it to town. We met up and the girls went off for some more shopping while the boys hung around the Roadtrek catching up on family news. After the ladies were shopped out, we decided to head back to Niagara Falls. We went back to Niagara Falls KOA while they went to check in to a nearby hotel.
The girls had decided that we would be spending a couple of hours at Casino Niagara. R&A picked us up in time to head for dinner at Mick & Angelo's Kitchen + Bar. We had passed this place many times in the past so decided to give it a try. The result was a passable to decent meal but not a "must return" rating.
We got to the Casino about 7:40 PM. While the ladies set off to make their contributions, the boys went off walking around the falls viewing area. It was a nice evening so it was a most enjoyable walk. We made it back to the casino at the appropriate time and we all set off back to camp about 9:40 PM.
R&A brought us right to our camp site where we chatted briefly before they head back to the hotel and we walked the dogs then retired ourselves.
Back to Contents
Day 5 - June 9, 2019 - A Day Around Camp
We got started fairly early since it was Sunday which is dog grooming day and we wanted to get them done before R&A arrived. The deed was accomplished with R&A checking in just as we were wrapping up. The puppy is still a pretty quick job compared to Weston.
R&A came over and we put together a good camp breakfast for all. Once that was done we mostly hung around catching up. In the early afternoon the boys went to see about Lillian's dead iPhone. The screen had been cracked more than a year ago and it got soaked in shampoo which seems to have been the final insult. We were able to replace it with a decent Android phone at a reduced cost.
After we returned, Lillian and her brother took off to find a few extra supplies for dinner which we prepared and enjoyed at camp. It was a lovely day to spend outdoors. After dinner, R&A hit the road back to the big city and we took the dogs for a nice walk before packing it in at a decent hour.
Back to Contents
Day 6 - June 10, 2019 - Heading Back East
Back to Contents
Day 7 - June 11, 2019 - Around Peterborough
Back to Contents
Day 8 - June 12, 2019 - On To Bowmanville
Back to Contents
Day 9 - June 13, 2019 - A Very Soggy Specialty
Back to Contents
Day 10 - June 14, 2019 - Heading Back East
Back to Contents
Day 11 - June 15, 2019 - A Wander In The Eastern County
Back to Contents
Day 12 - June 16, 2019 - Heading Back Home
The Numbers For Today
Click
Map
For
Larger
Version
Distance:
415.5 KM
Average Fuel:
13.6 L/100KM
Time On Road:
5:21

😞

No pictures for Day 12
Back to Contents
The Numbers For The Trip
| | |
| --- | --- |
| Distance: | 2439.0 KM |
| Average Fuel: | 14.0 L/100KM |
| Average Speed: | 58 KM/H |
| Time On Road: | 41:54 |