Back to "Wanders In Our Roadtrek Zion" homepage
Wine Wanders in Ontario - May 4-11, 2017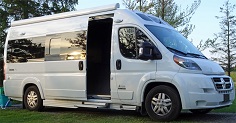 After a few days home taking care of various commitments and planning some others, we have decided to wander back into Ontario with a target of reacquainting ourselves with some of our favourite Niagara wineries. On our way we plan to stop in Mississauga to celebrate Lillian's brother's birthday.
We have some appointments on May 15th so we need to be back by then. Otherwise, as is our habit, serendipity is our guide!
Contents
Day 1 - May 4, 2017 - Back Down the 401
Day 2 - May 5, 2017 - Moving West
Day 3 - May 6, 2017 - South To Niagara
Day 4 - May 7, 2017 - More Niagara
Day 5 - May 8, 2017 - Robert's Birthday
Day 6 - May 9, 2017 - Back On The Road
Day 7 - May 10, 2017 - Heading Back East
Day 8 - May 11, 2017 - Homeward Bound
Day 1 - May 4, 2017 - Back Down the 401
We spent most of the morning doing various things around the house. Rod had picked up a small Master Chef® Portable Gas BBQ at Canadian Tire for $44.99 instead of the usual $89.99 which we hope will work well with the Roadtrek adaptor hose. The only problem is that significant assembly was required. p> Around the time we finished that and a few other activities, Rod's aunt and uncle stopped by to drop a couple of things off before we hit the road. They were feeling a bit down due to the very recent loss of an old friend so we decided pop down to Café Le Den for a bowl of soup and a bit of a visit. There is something soothing about a good bowl of homemade soup.

We finally finished packing and set off from home about 2:30 PM. We had a couple of quick stops to make before hitting the road so we decided to target the 1000 Islands / Kingston KOA so we popped in a quick reservation using the KOA app on Rod's tablet.

We got there just as the office was closing but they had our late arrival ready so we were able to grab it and get settled before the expected rain really set in. It turns out we were beside another Roadtrek - a Simplicity SRT. It is a CanaDream rental with Alberta plates. We have all been hiding from the "monsoons" so there has been no chance to chat.

We rustled up a snack from the galley and just relaxed after a couple of busy days.
The Numbers For Today
| | |
| --- | --- |
| Distance: | 279.0 KM |
| Time On Road: | 3:44 |
| Average Fuel: | 14.4 L/100KM |
Click for pictures from Day 1.
Day 2 - May 5, 2017 - Moving West
As expected we woke to swamp land after a night of heavy rain. We still had another day of "monsoons" to look forward to. Our theory was that the weather was moving east so if we moved west we might enjoy less of it.

We took our time getting ready. We had a nice breakfast out of the galley to go with Lillian's usuall superb pot of coffee. We finally hit the road about 9:45.

We took the 401 until we passed Cobourg then turned north on 28 to pick up route 7 (the TransCanada highway at the point) with the intent of passing north over Toronto. Somewhere near Oakwood we pulled into Franks Cafe & Restautant. It was a basic "Mom & Pop" place recently taken over by a new couple. The seemed to be well patronized by locals. Rod had a corned beef sandwich on the recommendation of someone at the next table and Lillian tried the chicken wings that were on special. Both were excellent!

Once the TransCanada changed its loyalty to route 12 heading for Orillia we picked up route 48 to pass below Lake Simcoe. As we worked our way along we decided to check out Toronto North / Cookstown KOA to see if they had any available sites that were "above water". We arrived about 15:30 and the young lady at the registration gave us a map and let us in to drive around an pick a site since she was not sure which were surviving best. We took a tour around and picked site 51 which seemed passable and was a water/electric drive through site that should be simple in cruddy conditions.

We booked the site for a night then head back to the Tanger Outlet Mall that Lillian spotted on the way in. Around the time we arrived at the mall we heard from Lillian's brother in Mississauga wondering where we were and where we were heading. We updated him on our location and that our current plan was to head for Niagara in the morning since the temperature was supposed to drop and we thought a shift south into wine country would be judicious. He mentioned that they might meet us there. We left it at that. After some shopping where some bits were purchased we decided to treat our selves to an indoor dinner. A bit of checking showed there was a https://www.redlobster.ca/ Red Lobster restaurant in Barrie so we headed there since we were ready for some seafood. We also like to occasionally pop into a Red Lobster to see how they were making out since they left Quebec about 20 years ago. Our last sample was in Virginia last November. We don't learn. We made a meal out of some appetizers and a bottle of wine. While it filled the need, it was not that impressive.

By the time we got back to camp the rain had let up quite a bit but things were still pretty soggy. We set up quickly, got the heat on, poured a drink (actually a cup of tea for "the dutchess") and relaxed. While I (Rod) did not think I would get this caught up, it seems that I did.
The Numbers For Today
| | |
| --- | --- |
| Distance: | 405.5 KM |
| Time On Road: | 6:31 |
| Average Fuel: | 14.4 L/100KM |
Click for pictures from Day 2.
Day 3 - May 6, 2017 - South To Niagara
We got moving about 8:00 and slowly packed up while we drank our coffee. We heard from Robert & Annie about 8:50 to confirm that they would be meeting us in Niagara and to confirm where were were staying. We told them we were targeting the Niagara Falls KOA at 8625 Lundy's Lane. Since we were moving about 1-2 hours ahead, we suggested that they text or call when they arrived.
We hit the road about 9:22 and made our way to Niagara Falls. The traffic was not too bad for a Saturday morning. It was raining but mostly pretty lightly with some breaks and some heavier. We made it to the KOA without incident and checked in for a night. Things were pretty soggy but workable. We were set up by about 12:30 so we just enjoyed some down time for an hour or so.
The rain had let up a bit so "the boys" decided to go for a walk. Just as we got to the office we saw R&A pull up. We put Weston back in the Roadtrek and picked up Lillian and headed off.
We made a brief stop at the Comfort Inn up the street for R&A to grab a room then it was off to the wineries.
The first stop was Henry of Pelham Family Estate Winery. We were familiar with some of their wines from the SAQ and LCBO but we (R&L) had never been to the winery so we were interested in exploring some of the wines that we have not previously met. We had a nice chat with the folks there, did some tasting and were accompanied out by several bottles.
At Robert's suggestion our next stop was Hernder Estate Wines. They are not available through the LCBO but their products are good and reasonably priced. Again, we did some sampling and chatting and again some bottles followed us home. We will have to stop back there again!
Our next stop was 13th Street Winery. They had some interesting wines but we found that the ones we liked were a bit pricy. We then moved on to Vineland Estates Winery Nothing too exciting but interesting anyway.
Our final stop was Tawse Winery which was almost next door. Again, and interesting visit but we were probably getting a bit "tasted out". It was almost 6 PM so we headed back to walk Weston then head to dinner.
Dinner was planned for Lucky's Steakhouse at Casino Niagara where were to enjoy their famous prime rib. We enjoyed some of the casino entertainment for a bit then head down to dinner at Lucky's about 8:15. Dinner met expectations but we were disappointed to hear that the restaurant was being closed in a month or so since they were reworking the casino to appeal to a younger crowd. After another short shot at the games we headed back to camp. The good news is that we all came out slightly ahead.
The Numbers For Today
| | |
| --- | --- |
| Distance: | 186.1 KM |
| Time On Road: | 2:08 |
| Average Fuel: | 12.5 L/100KM |
Click for pictures from Day 3.
Day 4 - May 7, 2017 - More Niagara
We woke up to slightly less soggy than bedtime. We slowly started packing up while enjoying our usual cup of coffee. Annie called about 9:15. We told her that we would meet them at the hotel and that we would be leaving in about 1/2 hour.
We actually set out at 9:45 after texting "Wagons ho" to R&A. We met them at the hotel and decided to break our fast at the attached IHOP. While it "filled the hole" it reminded us why we avoid IHOPs - expensive and unimpressive.
Lillian wanted to visit Peller Estates Winery which has been one of her long time favourite spots. She especially wanted to see if she could get one of their cookbooks from the restautant since her old signed copy appears to be on extended / permanent loan.
The girls did a bit of shopping and tasting while Rod celebrated the lack of rain by taking Weston for a tour of the grounds. While the girls were tasting and chatting someone mentioned that we should try the Cabernet Franc at Two Sisters Vineyards which was the next estate over. Lillian headed over with R&A while Rod went to "feed the Roadtrek" before he joined them. We actually were not impressed with the value of the Franc. It was decent but very pricy.
Since we were so close we decided to enjoy the lack of rain by exploring around Niagara On The Lake. We arranged to meet at the parking behind the Prince of Wales Hotel. Once there we put enough coin into the box for 2 hours then we set off along Queen Street. It is a well designed shopping town - lots of "husband benches" along the way.
After about 90 minutes the girls declared the shops suitably explored so we headed back to the parking. Since we had a bit of time on the meter we popped in to Balzac's Coffee for a cuppa joe. We agreed to meet back at R&A's in Mississauga.
We arrived there about 5:15 PM after an uneventful drive. We found a spot to park the Roadtrek where the trees are not too low or messy.
Dinner was planned for Lucy's Sea Cove & Oyster Bar which is an evolution of Lucy's Seafood Kitchen that goes back to the mid 1990's. A good meal overall but not quite up to the days of Lucy and Len. Lillian's clam chowder seemed to have half a bottle of sage in it and all rice was barely warm. It is a complete mystery what sage was doing in clam chowder anyway. Everything else was decent or better.
Back to R&A's for more chat before retiring.
The Numbers For Today
| | |
| --- | --- |
| Distance: | 336.0 KM |
| Time On Road: | 5:05 |
| Average Fuel: | 14.0 L/100KM |
Click for pictures from Day 4.
Day 5 - May 8, 2017 - Robert's Birthday
A most leisurely day. We have been mostly sitting around chatting while Annie has kept us well fed. Rod has been catching up the blog and culling, cropping and correcting the pictures from the last few days.
After much discussion between Annie, Robert and Samantha it was decided that the birthday would be at Daisho Momofuku on University Street in downtown Toronto to make it easier for Sam who was working today. A good and interesting meal was shared by all. We got caught in the Blue Jays traffic on the way home.
The Numbers For Today
| | |
| --- | --- |
| Distance: | 0.1 KM |
| Time On Road: | 0:02 |
| Average Fuel: | ?? L/100KM |
Click for pictures from Day 5.
Day 6 - May 9, 2017 - Back On The Road
By 9:00 AM we were slowly packing up to hit the road again for a leisurely wander home. We managed to set off by 10:00 with an initial target of The Best Little Pork Shoppe in Shakespeare, ON.
We made it without incident or excitement. Rod went in to buy some smoked pork chops and some frozen sausage. Lillian headed to a "shop" next door which was not in much operation but fell into a conversation with the owners of the property who were now somewhat retired and wandering as well. We learned a lot of local history and shared some wandering experience and plans. Lillian mentioned she was heading into Statford to visit and favourite chocolate shop. She was told that there had been some ownership and recipe changes and that Chocolate Barr's Candies was the place for chocolate in the old tradition.
Before heading on to Stratford, Lillian wanted to stop at Shakespeare Pies so she could buy some soap. We did and she did.
Our next stop was The Festival Inn as we headed in to Stratford to book our room for Bearded Collie Club of Canada National Specialty 2017 in August. After that we moved on to the previously mentioned chocolate shop followed by a side trip to a local wool store.
Since the day was sliding on, we decided to work our way to Barrie KOA where we planned to spend the night. We got there about 4:30 PM and, after walking around a bit, we got some wood and lit a fire. While we burned enough wood for a cooking fire we opened one of our bottles of wine from our Niagara wanders and enjoyed a dry evening. We eventually cooked the smoked pork chops over the fire for a fine dinner.
After that it was some music, books, blog updates and a generally relaxing evening.
The Numbers For Today
| | |
| --- | --- |
| Distance: | 334.7 KM |
| Time On Road: | 5:45 |
| Average Fuel: | 13.6 L/100KM |
Click for pictures from Day 6.
Day 7 - May 10, 2017 - Heading Back East
We pulled ourselves together and hit the road about 9:00 after dumping the "ugly tanks". Our basic plan was to head over the top of Lake Simcoe via Orillia then head to Rice Lake. Also on our plan was the need to get gas - both gasoline and propane - and to return a heater Rod had purchased at Canadian Tire after our dinner at Red Lobster a few days earlier. It had worked for one night the progressively stopped heating well and started making a lot of noise.
Given where we camped, we headed for the same Canadian Tire in Barrie that we had purchased the disappointing unit. Rod popped in and returned it. That part was smooth but the gasses were more of a problem since the station there was being renovated so they supplied neither. On the other hand we found The Breakfast House where we popped in for a decent breakfast.
We moved on to Costco where we filled up about $0.06 cheaper than most around. No luck on the LP gas though.
At that point we headed back north to Orillia and from there we picked up the TransCanada (12 then 7) heading back east. Somewhere near Peterborough we popped in to Great Canadian RV and got directions to an LP gas dealer. As we left there we spotted Smokey Joe's Butcher Shop And Market where we popped in to resuply our protein reserves. We then headed on to the recommended propane source where we topped up that tank.
Back on the road again we headed for the Golden Beach Resort which was the first rv park we had ever used with our Roadtrek. On the way we snacked on some hot dogs and fries at a chip stand.
We arrived about 3:30 PM and checked in for a night. We were delighted to see that their restaurant "The Boathouse" was operating so we booked dinner at 6:45 PM.
Lillian wanted to snooze a bit so "The Boys" went for a walk then Rod dragged out the mat and brushes to groom Weston on the picnic table as is our tradition on the road. He was a bit past due since Sunday is usually grooming day but the picnic tables to date had been a bit "damp".
After a decent dinner at the Boat House we relaxed for the rest of the evening.
The Numbers For Today
| | |
| --- | --- |
| Distance: | 248.0 KM |
| Time On Road: | 4:39 |
| Average Fuel: | 14.2 L/100KM |
Click for pictures from Day 7.
Day 8 - May 11, 2017 - Homeward Bound
Since we were expecting Rod's aunt and uncle to be in town for the weekend and there was work to do before the big trip west, we decided to cruise home.
We had a leisurely breakfast then finally hit the road about 10:15. It was a basic cruise home mostly along the 401. We made gas stops at our usual spots and arrived back in Pointe Claire about 4 PM.
The Numbers For Today
| | |
| --- | --- |
| Distance: | 447.8 KM |
| Time On Road: | 5:18 |
| Average Fuel: | 15.6 L/100KM |
The Numbers For The Trip
| | |
| --- | --- |
| Distance: | 2,051.1 KM |
| Time On Road: | 31:32 |
| Average Fuel: | 14.4L/100KM |
| Average Speed: | 65 KM/H |