Ontario Wanders - September 2-10, 2016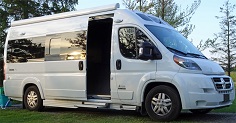 This trip is the first real shakedown trip with out new 2016 Roadtrek Zion Class B Motorhome. We have previously had it out August 14-19 for the Bearded Collie Club of Canada National Specialty in Belleville, Ontario but that was more of a "trucking and hospitality" trip than a camping trip.
Like so many of our wanders over the last 40+ years, we picked a direction and a couple of possible objectives and left the rest to chance and opportunity. Mostly we wanted to give the Zion and its systems a good test before we take off on a longer adventure in Nova Scotia next month.
We had an initial objective of dropping off some outboard motors in Cobourg, ON and we planned to spend most of the week somewhere west of Hogtown (Toronto). Lillian wanted to fit in a day around Stratford. She missed the BCCC specialty not being there this year. Also, while following the Roadtreking.com blog/podcast, we heard that a bunch of Class B folks were gathering in Tobermory. The gathering was fully booked before we "qualified" but the idea was good. I (Rod) was last up the Bruce more than 40 years ago and Lillian had never been so it was more of a possibility than an objective.
So, early on Friday, September 2 we were on our way.
Day 1 - September 2, 2016
After a quick breakfast stop in Dorion, we hit the 20/401 west. We contemplated getting gas at the Napanee Flying J at GoodSam rates but decided to take a small detour to the Mohawk reservation for their prices.

Stopped for a quick visit in Cobourg while we dropped off the engines then headed a bit North to our park for the night at Golden Beach Resort. We indulged in the Fish and Chip special at the Boathouse Cafe on site.

Click for pictures from Day 1.
Day 2 - September 3, 2016
After a leisurely breakfast we packed up the van and hit the road back east a bit. We had decided to wait until after the long weekend to head west of Toronto and spend some time in the Prince Edward County, Belleville, Kingston area. The only place we could find space for only 2 days was at Pickerel Park along the scenic southern shores of Hay Bay on the Bay of Quinte in Greater Napanee.

We decided to take our time getting there so we headed into Prince Edward County at Trenton. We made a stop at Sandbanks Winery to pick up some potables for the week. We then took a wander through the Sandbanks Provincial Park. It is a beautiful spot but well populated on a hot Labour Day weekend. We stopped to pick up some ice and grab a snack from our galley.

After a few detours into other interesting parts of "The County" we made our way through Picton to exit The County via the Glenora Ferry and make our way up to Pickerel Park.

Pickerel Park proved to be an interesting experience. It is primarily a park for seasonal residents though they have a few spots for transients. We got a decent site handy to both the office, washrooms and showers (free). We also landed on the night were all the seasonal folks were putting on a free BBQ for all comers. We contributed a bottle of "grape juice" and had a great meal. The overall culture was a bit of a shift from what we are used to but all were friendly.

Click for pictures from Day 2.
Day 3 - September 4, 2016
Today we had a leisurely breakfast then set out wandering along Lake Ontario to the east. We traveled right through to Kingston and, after a couple of stops around there, started wandering back. We made a couple of quick shopping stops in Napanee and also wandered back to Tyendinaga Mohawk Territory to top up the gas tank for the trip west.
No Pictures from Day 3.
Day 4 - September 5, 2016
We decided we were going to boldly cross Hogtown on the 401 since it was a holiday but also decided to make an early start so we could avoid the folks heading back to town after the long weekend.

We did not have breakfast but packed up and pulled out. We took the Glenora Ferry (drove right on - no waiting) and headed back across The County. We stopped in Bloomfield at the Saylor House for an excellent breakfast and bought half a loaf of their superb rye bread. We left the county at Trenton though not without noticing they were having an Scottish Irish Festival with small Tatoo and concern on the 9th. Alan Doyle of Great Big Sea fame was the headliner. We filed it as an "opportunity".

Overall we made good time across the 401 until we reach Mississauga where it slowed down for 10-15 KM. We made our way to Green Acre Park in North Waterloo. We had a nice site so we booked an extra night, ordered some wood and spent a plesant evening.

No Pictures from Day 4.
Day 5 - September 6, 2016
A touring day. We did some shopping around St. Jacobs Country after which we headed off towards Stratford. We stopped in Shakespeare at the Shakespeare Pie Shop.

Once in Stratford we parked down by the water the took Weston and Lillian went shopping around the city while "the boys" enjoyed a lovely day. An important stop was Rheo Thompson Candies, a favourite of Lillian's for chocolate.

We worked our way back to the van, made a nice lunch then started back towards Waterloo. On the way back through Sahkespeare we stopped at Best Little Pork Shoppe and picked up a couple of their smoked pork chops for dinner.

On the way back to camp we detoured by 100 Shirley Avenue in Kitchener to pay respects to the Zion's birthplace.

Back at camp we cooked the pork chops on the fire and served the on toasted rye bread from The Saylor House. Wow!

Click for pictures from Day 5.
Day 6 - September 7, 2016
Another beautiful but warm day. We have decided to head up the Bruce Peninsula to Tobermory. We booked a site at Tobermory Village Campground and headed northwest. I noted when I put the destination in the GPS that it was 45 degrees north latitude which means it is further south that home.
We enjoyed our drive up and had time to shop around Tobermory and grab a snack. We could see the impact of having the Roadtreking.com folks in the area since we saw more Class B units than we had seen all week.
Back at the camp we started a fire to cook some dinner. The wood there is like rag. Hard to split and hard to burn. It took pretty much the whole bag of wood to get enough coals to cook dinner.
Click for pictures from Day 6.
Day 7 - September 8, 2016
We decided that we were not going to stay another night at Tobermory Village Campground so we packed up. We were not sure where we were going to land up for the night but we wanted to explore the park a bit regardless.

First we headed into Tobermory to grab a bite of breakfast and hit the food store. We pulled up near Craigie's Restaurant which was also handy to the Foodland food store. We parked beside a Roadtrek eTrek with Ontario plates. I remarked to Lillian that it could not be Mike Wendland's since it was from Ontario.

We descended from the Zion and as we walked around the back who comes walking up but Mike, Jennifer and their young dog Bo. It seems Mike's eTrek is at Roadtrek and he had a loaner (a closer look at those ON plates showed that they were "dealer" plates). After introductions Mike said that there were no Zions at the gathering and that Roadtrek was making some videos. He asked if we would be interested in coming by. He told me where they were camped and that sites were available. We had no better plan and hanging out with some "kindred spirits" sounded just fine to us - especially in a national park.

After some breakfast and food (and other) shopping, we headed off to the Bruce Peninsula National Park Visitor center to explore the displays there and pick up a family "Discovery Card" which gives us access to National Parks and Historic Sites. for 2 years. Given our plans ahead that should pay back by mid October. We were not doing much hiking since Lillian is still suffering from an ankle sprain.

We moved on to the Cypress Lake campground office and bought a campsite for the night and a couple of bags of wood. We set up in the finest campground of the week and "The Boys" enjoyed exploring around and visiting with some folks. Somewhere along the way we were videoed for Roadtrek's Customer Stories. We may eventually show up there if he can compress my blather into something interesting.

We were invited to join in to an evening gathering of the folks on the excursion. It was interesting meeting so many folks living the Class B life style (some full time) and exchange experiences and ideas. We learned a lot.

Click for pictures from Day 7.
Mike's Pictures from Tobermory
Day 8 - September 9, 2016
Time to start heading back - so sad - could spend another week here. We want to be back in Pointe Claire in time to attend a memorial celebration for an old friend at 15:00 Saturday. We decided to try and make it back as far as Trenton to we could attend the Trenton Scottish Irish Festival

Rather than drive across Toronto we decided to follow Georgian Bay across to Orillia then on to Peterborough before heading down to Trenton. We grabbed a camp site at Camp Barcovan just inside The County. We then headed off to the festival.

We had a great wood oven pizza and enjoyed the entertainment.

Click for pictures from Day 8.
Day 9 - September 10, 2016
Heading home! We took a few last pictures and headed off across the county. We stopped at the Saylor House for a full loaf of rye bread for the freezer then off through Picton and up through the Tyendinaga Mohawk Territory for some gas on the way to the 401.

We stopped at Denny's at the Napanee Flying J for breakfast - don't ask why - long story related to the memorial later in the day. Arrived home about 14:00.

Click for pictures from Day 9.
The Numbers
| | |
| --- | --- |
| Departure: | 2016/09/02 08:40 |
| Return: | 2016/09/10 14:10 |
| Distance: | 2,575.3 KM |
| Average Speed: | 57 KM/H |
| Time On Road: | 44:29 |
| Average Fuel: | 14.2 L/100KM |
| Final Odometer: | 4,611 KM |